Learning Centre
Investment ideas, insights, and information

Newsletters
Articles and Insights
Videos
Mutual Fund Basics
Quarterly issues feature timely financial articles and advice along with economic and market updates and insights.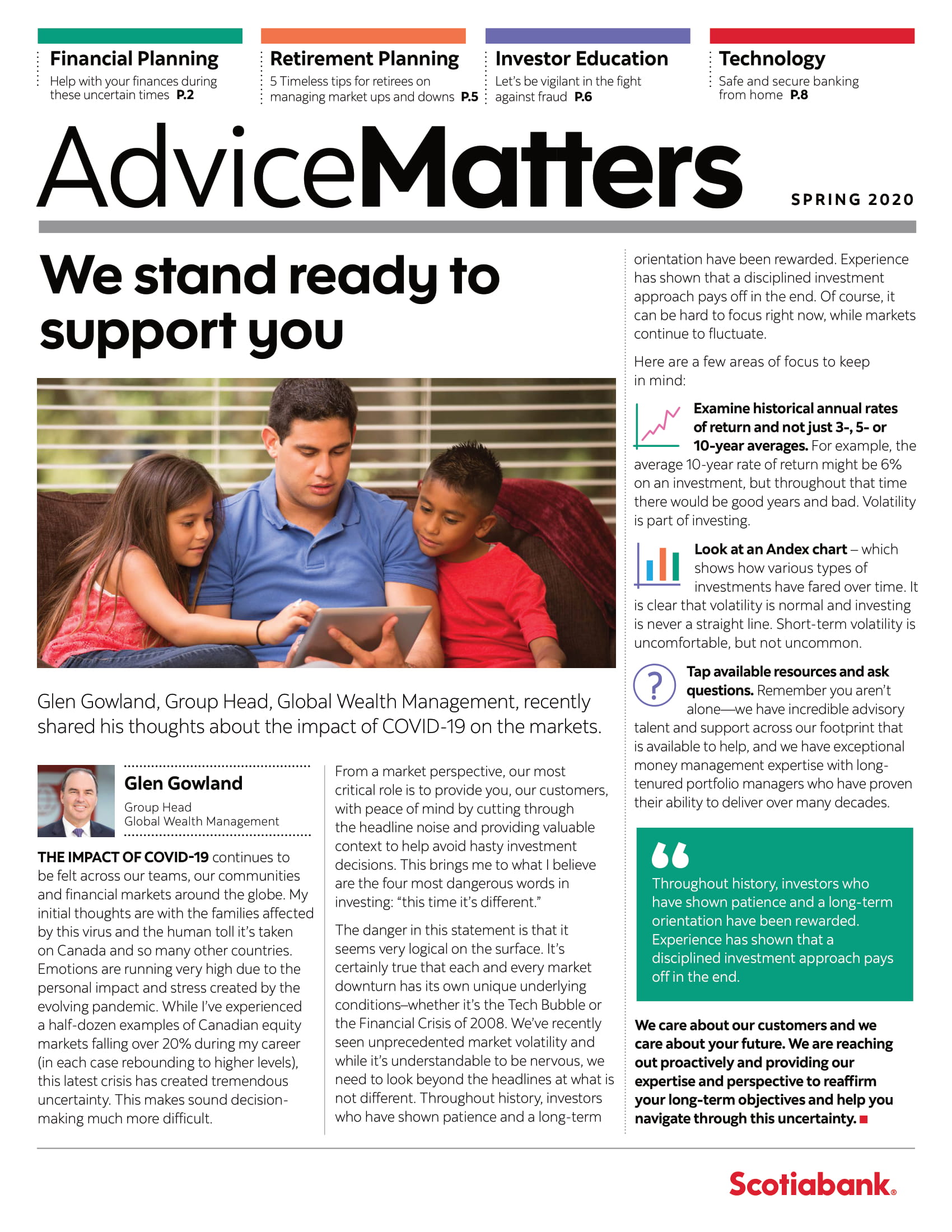 Help with finances during these uncertain times
5 timeless tips for retirees on managing market ups and downs
Safe and secure banking from home 
Monthly Investment Monitor 

Monthly highlights of major events which drive financial markets along with perspectives on what they mean and why they matter.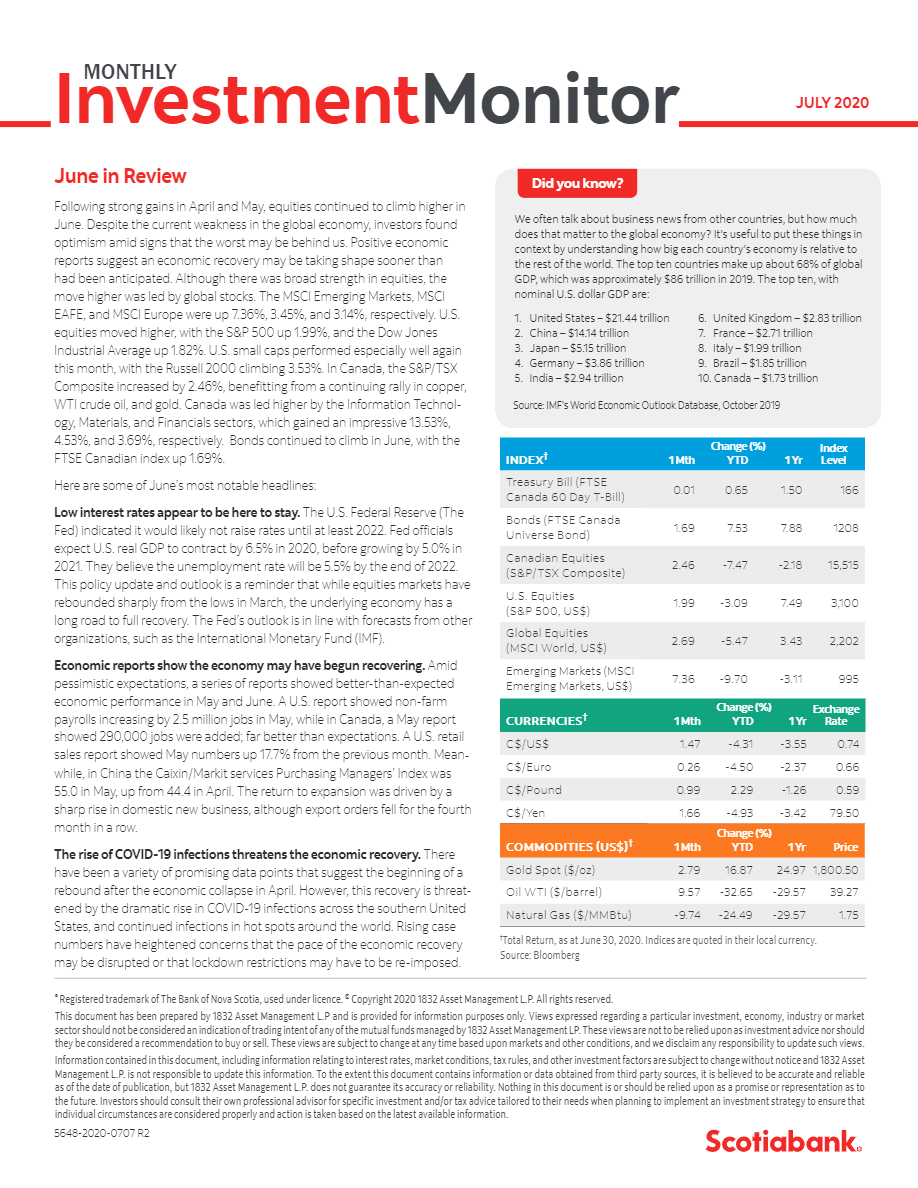 Low interest rates appear to be here to stay
Economic reports show the economy may have begun recovering
The rise of COVID-19 infections threatens the economic recovery
Spotlight on Fixed Income [PDF: 82 KB] 
As the global economic picture improves, and with central banks raising interest rates, this could be a great time to take another look at fixed-income and how it can work in a diversified portfolio.
Harnessing the Power of Compounding [PDF: 806 KB] 
While you may know there are benefits of compounding, are your investing strategies putting compounding to work effectively to help grow your assets? Find out how to harness the power of compounding.
Why Diversify? [PDF: 273 KB] 
As you've probably heard, putting all your eggs in one basket may not be the best investment strategy. Find out why diversification matters.
Spotlight on Dividends [PDF: 266 KB] 
This Spotlight will highlight the advantages of dividend-paying stocks and why investors should consider them to help them meet their long-term financial goals.
5 Timeless Tips on Managing Market Ups and Downs 
Market volatility is unnerving, for even the savviest of investors. In this article we provide you with some key tips on how to manage – and potentially benefit from – market volatility.
Spotlight on Risk [PDF: 748 KB] 
"Many of our decisions are predicated on our comfort with taking risks. It's important to remember that, when it comes to planning for the long term, risk is more than a four-letter word."
Spotlight on Emotional Investing [PDF: 986 KB] 
Investment decisions have financial and emotional implications. Key to a sound investment plan is ensuring your financial needs are aligned with your emotional needs. Read about how our natural emotional biases can shape the way we view our finances and interact with our investments, often subconsciously.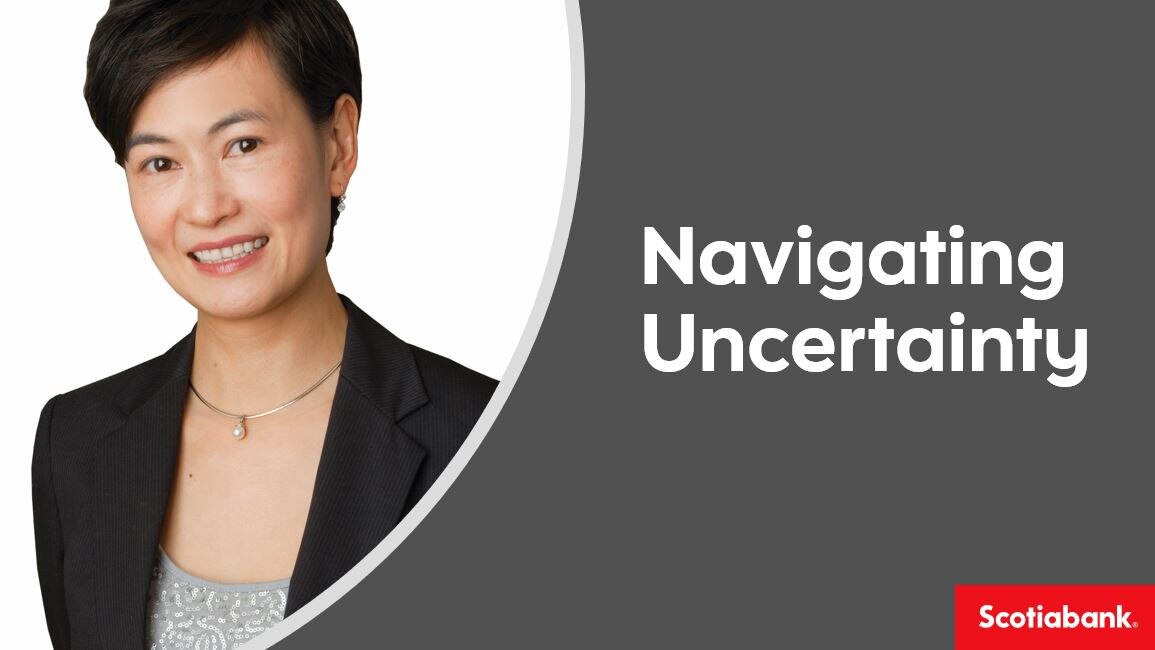 Concerned about volatility and how to position your portfolio for 2020 and beyond?

Join us for this insightful presentation from Judith Chan, Lead Portfolio Manager of Scotia Portfolio Solutions and DynamicEdge Portfolios, who provides her unique perspective on the global economy and how to find your way in today's uncertain markets.
To find out more, talk to your Scotiabank advisor today.
Investing Essentials Video Series

Staying Invested: 1:58 min
Something as simple as staying invested during the ups and downs in the markets can be an important strategy to help you benefit from the best performing days in the markets. This approach provides the potential for better overall portfolio performance over the long term.

Talk to a Scotiabank advisor about building a plan that's right for you.
Weather the unexpected through diversification: 1:56 min
Just like the weather, markets can be unpredictable. By building a diversified portfolio made up of a variety of investment types, you can help smooth your investment returns and benefit from potential gains from investments that are doing well.

Talk to a Scotiabank advisor about building a diversified portfolio.

Rethinking Risk: 2:02 min
Many of our investment decisions are based on our comfort with taking risks. It's important to remember that, when it comes to planning for the long term, risk can managed with proper planning and the right balance of investments for each stage of your life.

Talk to a Scotiabank advisor about putting the elements of risk into perspective by developing a plan that's right for you.

Mutual Funds: Understanding Costs:
2:45 min 
Understanding the costs associated with mutual funds is an important part of your purchase decision. Watch our video to learn more about how mutual fund fees work. 
Contact a Scotiabank advisor if you have any questions.
Brush up on your mutual fund knowledge and learn how mutual funds can help you reach your investment goals.
About Mutual Funds 
Mutual funds are investments that pool your money with the money of many other people to purchase a variety of individual securities. Get more details
Understanding fees and expenses 
Understanding the costs associated with mutual funds is an important part of your purchase decision. Watch our 3 minute video to learn more about how mutual fund fees work. Get more details
Asset Classes 
Mutual funds may be categorized by the four major asset classes in which they may invest: cash equivalent, income, equity and balanced. Get more details
Scotia Portfolios 
Each of the Portfolios invests in a range of mutual funds chosen to provide strategic asset allocation and diversification to match your investment needs. Get more details